Honey-Sweetened Dark Chocolate Kit
Do you love chocolate but don't like the ingredients? 
You can make your own healthier chocolate – from scratch!  It's really easy, doesn't take much time, and you end up with chocolate that is as tasty as store-bought candy – without all the additives and extra processing.  Making your own chocolate means you can enjoy the health benefits of this ancient sweet without the damaging effects of sugar, soy or other additives.
Quick and easy to make – a special treat for you and your loved ones!
The Honey-Sweetened Dark Chocolate Kit is a great project for parties, 4-H, scouts, and other places where people get together to have fun.  There's nothing more empowering that being able to make your own delicious and healthy chocolate.  With the Kit, you'll be able to make your own chocolate whenever you like.  The ingredients are simple and fairly easy to come by.  The recipe only takes about ½-hour to make.  Clean up is a cinch.
What will you get?
Each Kit comes with enough ingredients to make two batches of chocolate.  Each batch produces 28 quarter-ounce pieces of candy for a total of seven ounces of finished chocolate.  (Chocolate of this quality costs $4-5 per half-ounce in stores!)
Each Kit contains: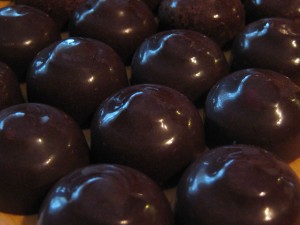 cocao butter
cocao, maca and mesquite powder mix
roasted cocao nibs
honey
two candy molds
instructions
Special offer!  Only $47, includes shipping!
Buy today and receive free shipping to any USA address!  (Shipped USPS Priority Mail)
Click the "Buy Now" button below to order yours today!