The Bee Social – A Gathering of Bee Lovers and Learners!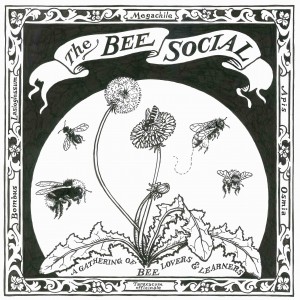 The week of June 18-24 is Pollinator Week.  To celebrate, BeeMentor.com and partners will be hosting The Bee Social, an intimate gathering of bee lovers and learners.  The event will be held at the scenic and organic Fred's Farm in Naselle, WA on Saturday, June 23rd.
Details
Date:  Saturday, June 23rd
Time:  10am – 2pm
Location:  Naselle, Washington 98638
Cost:  $35/person  (Includes a delicious lunch!)
Join us on June 23rd in celebrating the 6th Annual
Pollinator Week, an international celebration of the valuable ecosystem services provided by bees, birds, butterflies, bats and beetles. Saturday's event will spotlight a unique opportunity to learn how to help bees while enjoying some of the fruits of their labors.  Bees and other pollinators have been in decline due to habitat loss, chemicals in the environment, and habitat fragmentation.  Attending The Bee Social will give you some of the tools you need to help these amazing animals.
The Bee Social runs from 10 a.m. to 2 p.m. and is $35 to register.  Presentations will include information on how to plant for pollinators, working with mason bees, and the basics of keeping honey bees.  Lunch is included with registration and will be catered by Fred Johnson, Seattle chef-turned-farmer.  This event is an opportunity to network with other bee enthusiasts in the community over a delicious meal while learning how you can help bees.  Seating is limited, so register early.
Agenda
10am   Planting for Pollinators – Dixie Edwards from Watershed Garden Works
11am   Lunch
12pm   Working with Mason Bees – Randy Person, Mason Bee Rancher
1pm     Getting Started with HoneyBees – Thom Trusewicz from Oregon State Beekeepers Association
(If you prefer to pay by check, please contact me at beementor@gmail.com)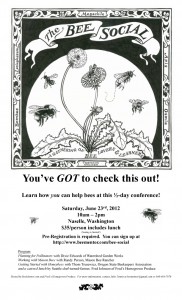 Share the love!  Here's a flier for the event that you can post in your neighborhood.  (It's a pdf – if you right click on the image you can save it to your computer.  Here's the hard link: http://www.beementor.com/wp-content/uploads/2012/04/Bee-Social-Poster-small.pdf)